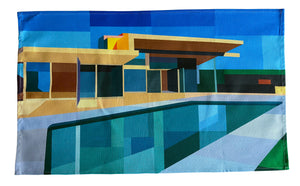 This cotton-linen tea towel forms part of the Tom Smarte Lifestyle Artist's Collection, based on the works of acclaimed British artist Andy Burgess, lauded by Tatler magazine as the next David Hockney.
We have faithfully reproduced Andy's painting of 'The Colour House' onto this fabric, with the brush details clearly visible.
The tea towels are made of cotton-linen. It's a 100% natural blend fabric made from pesticide free natural yarn that is more environmentally friendly than paper towels. We also print using eco-friendly inks and reactive printing methods that infuse the fibre with ink, creating brighter colours for longer.

Hand made and printed in the U.K., this tea towel is made from 228 gsm cotton-linen fabric.
In order to ensure that your tea towel retains its intense colours for a long time, wash on a cold wash on delicate setting or hand wash and dry flat. 
Size: 70 cm x 50 cm
Can be bought as a single item, or a pack of 3
Item shipped 5 to 7 days after order